About Mary Ellen Copeland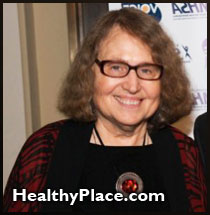 I experienced episodes of severe mania and depression for most of my life. With the lack of help available to me at the time, and out of frustration, my first research project was on how people with psychiatric symptoms get well and stay well. Prior to my research and the implementing of self-help strategies, I underwent numerous hospitalizations and medication trials that weren't helpful. I have achieved long-term wellness and stability by using many of the coping strategies I learned through my research. For the last ten years, I've been studying how people who experience psychiatric symptoms relieve these symptoms and get on with their lives.
I wanted to share what I had discovered through my research and started publishing my findings. You may have read some of my books:
I'm also the co-producer of the video Coping with Depression and producer of the audio tape, Strategies for Living with Depression and Manic Depression.
I have two new books, The Loneliness Workbook and a book on relieving the effects of trauma, entitled "Healing The Trauma of Abuse," written with Dr. Maxine Harris. All of these resources are based on my on-going study of the day-to-day coping strategies of people who experience psychiatric symptoms, and how people have gotten well and stayed well.
A Bit About My Personal Life
I am married, but have only been married to my husband for the last seven years. I was married twice previously --once for twenty years and once for five years--to men who were abusive. In those days, I didn't know that I had any value and that I should not allow myself to be treated badly. I have now learned those lessons well and my marriage is wonderful. However, I have regular appointments with a wonderful counselor who knows me well and who helps me build my self esteem--to cherish myself-- and reminds to take very good care of myself.
My husband and I work together. I write and teach about mental health self help and recovery. He takes care of administrative details, book sales and travel arrangements. We have a small farm and he manages our gardens and orchard.
My husband and I have seven grown children, a foster daughter and twelve grandchildren. Several of them live nearby and we enjoy rollicking family times together. I am sure my depression and mood instability have affected my children. Some of them have to work very hard to keep their moods stabilized. The good thing about that is that they know how to do it. And they know it is up to them, with the help they need from others, to do it for themselves.
I am trying to curtail my travel so I can spend more time at home. I am doing this by holding seminars in a nearby inn. These seminars are teaching participants basic recovery skills and how to share these skills with others. My goal in this work is to spread the word about recovery, self help and the Wellness Recovery Action Plan as widely as possible.
Self-help can work effectively either by itself or in conjunction with therapy and/or meds. In my view, the treatment scenario and the effectiveness of self help strategies depends on the willingness of the person to work hard on managing their symptoms, their preferences, and the cause and severity of the symptoms. In my work I do not advocate for or against any treatment protocol. I firmly believe that the person who experiences the symptoms must, if at all possible, determine the course of their own treatment. While this may be impossible when symptoms are very acute, that responsibility should be returned to the person experiencing the symptoms as soon as possible. If the person has a good crisis plan, they can stay in control even when their symptoms are out of control and they cannot make decisions for themselves.
In my own case, I use self-help along with counseling. I work every day to manage my symptoms. I have used psychiatric medications in the past, but have had allergic reactions to those that would be most helpful to me. In an emergency, I would use specific psychiatric medications to relieve the symptoms quickly.
I do work closely with a nutritionist and a naturopathic physician and, with their guidance, have made adjustments to my diet and take recommended food supplements and amino acids.
The purpose of this website is to:
educate people about recovery and the self help tools and strategies they can use to relieve psychiatric symptoms, or that they can share with others;
acquaint them with the Wellness Recovery Action Plan which can be used by people with any kind of illness or issue;
to empower people to take back control of their own lives
expand people's thinking about mental health care and treatment
reduce stigma against people who experience psychiatric symptoms
introduce you to self-help books and the other related resources
share stories of hope and recovery
I hope you get a lot from my site. I'm glad you came by.
Mary Ellen Copeland
next: The Purpose of the Mental Health Recovery Website
~ back to Mental Health Recovery homepage
~ depression library articles
~ all articles on depression
APA Reference
Staff, H. (2008, December 25). About Mary Ellen Copeland, HealthyPlace. Retrieved on 2023, December 6 from https://www.healthyplace.com/depression/articles/about-mary-ellen-copeland
Last Updated: June 20, 2016