Going From Suicidal Thoughts To A Suicide Attempt
HealthyPlace Mental Health Newsletter
Here's what's happening on the HealthyPlace site this week: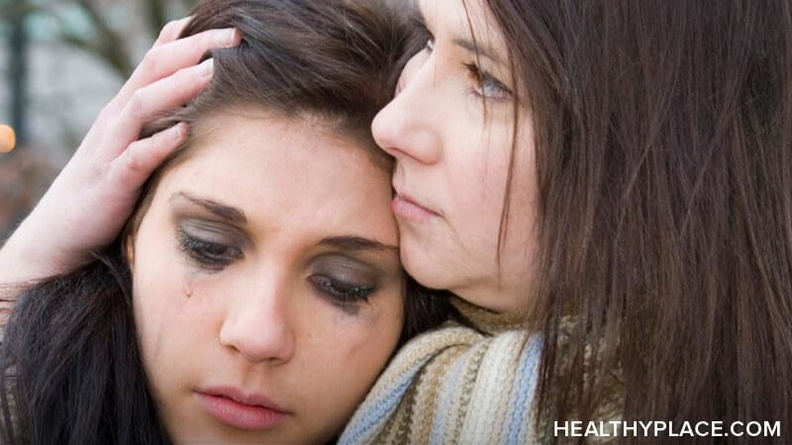 Going From Suicidal Thoughts To A Suicide Attempt
What stops someone from suicide? Going from suicidal thoughts to actually attempting or completing suicide?
Many with depression, bipolar disorder, schizophrenia, addictions and other mental health conditions have thought about suicide. But I wanted to know what stops someone from crossing the line; from thinking about suicide to attempting or completing suicide?
Shawn T. Smith, Psy.D., says "there is a certain kind of thinking that fuels suicide, and for most of us it is a terribly difficult idea to sit with: suicide is problem-solving behavior. In the mind of someone considering suicide, the act may seem like an expeditious and effective way to eliminate pain."
For those who are balancing on the line between life and death then, what keeps them from going through with the suicide?
Fear of death (What does the afterlife hold?)
Fear of an unsuccessful suicide attempt and being left physically and/or mentally worse off
Inability to actually take their own life
Regrets about leaving people behind or hurting loved ones
An ounce of hope that things will get better
Related Information on Suicide
National Suicide Prevention Hotline 1-800-273-8255
Your Thoughts
Today's Question: If you've thought about suicide, what is it that keeps you from taking the next step? We invite you to participate by commenting and sharing your feelings, experiences and knowledge on the HealthyPlace Facebook page.
Help Spread Awareness of Mental Illness
Get Our Mental Health Blog Widget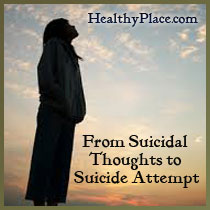 Over 340 sites and blogs are helping spread awareness of mental illness. How about putting our mental health blogs widget on your website, blog or social page? The latest HealthyPlace blog headlines appear as soon as the articles are posted on our site. Just click "Get Widget" at the bottom of the widget, grab the embed code and paste it into your page. You'll also see embed links for Wordpress, Blogger, Linkedin and other social sites there.
As a bonus, put the blogs widget on your site or blog, email us (info AT healthyplace.com) with a page link where it appears, and we'll give a shoutout to your site, blog, or social site on our Facebook and Twitter pages.
------------------------------------------------------------------
Share our Stories
At the top and bottom of all our stories, you'll find social share buttons for Facebook, Google+, Twitter, Pinterest and other social sites. If you find a particular story, video, psychological test or other HealthyPlace feature helpful, there's a good chance others in need will too. Please share.
We also get many inquiries about our linking policy. If you have a website or blog, you can link to any page on the HealthyPlace website without asking us beforehand.
---
---
Most Popular HealthyPlace Articles Shared by Facebook Fans
Here are the top 3 mental health articles HealthyPlace Facebook fans are recommending you read:
If you're not already, I hope you'll join us/like us on Facebook too. There are a lot of wonderful, supportive people there.
------------------------------------------------------------------
From the HealthyPlace Mental Health Blogs
On all our blogs, your comments and observations are welcomed.
Feel free to share your thoughts and comments at the bottom of any blog post. And visit the mental health blogs homepage for the latest posts.
------------------------------------------------------------------
Stand Up for Mental Health
Thousands Have Joined the Stand Up for Mental Health Campaign
But we still need you. Let others know there's no shame in having depression, anxiety, bipolar disorder, trichotillomania, OCD, ADHD, schizophrenia or any other mental illness.
Join the Stand Up for Mental Health campaign. Put a button on your website or blog (buttons for family members, parents, mental health professionals and organizations too). We also have covers for Facebook, Twitter and Google+.
------------------------------------------------------------------
Is Your Child A Bully? Helping Kids Become More Accepting of Others
We talk a lot about bullying and helping your kids manage bullies, but what if your child is a bully? The Parent Coach, Dr. Steven Richfield, has helpful ideas for parents dealing with a child bully and how to address those types of behaviors.
Latest Mental Health News
These stories and more are featured on our mental health news page:
Revenge of the Introvert. How to Thrive in an Extraverted World
The Downside of Genius
The Male Biological Clock
How to Feel Better Fast
Mental Disorders Linked by Genetic Traits
Depressed Mood Could Be Lifted by Color of Nightlight
Stable Traits Dominate Psychosis Risk
More Research Needed on Late-Life Mania
Preventing Manic Episodes 'Key to Work Success'
Cognitive Impairment in Schizophrenia a Global Problem
Psychosis Prodrome Rarely Converts to Psychotic Illness
Research Links Hormonal Imbalance in the Placenta to Anxiety and Vulnerability to Poor Mental Health
That's it for now. If you know of anyone who can benefit from this newsletter or the HealthyPlace.com site, I hope you'll pass this onto them. You can also share the newsletter on any social network (like facebook, stumbleupon, or digg) you belong to by clicking the links below. For updates throughout the week:
APA Reference
Staff, H. (2013, August 15). Going From Suicidal Thoughts To A Suicide Attempt, HealthyPlace. Retrieved on 2022, August 18 from https://www.healthyplace.com/other-info/mental-health-newsletter/going-from-suicidal-thoughts-to-a-suicide-attempt
Last Updated: December 11, 2017