How Do Therapists Approach Mental Health Challenges?
Here's what's happening on the HealthyPlace site this week:
---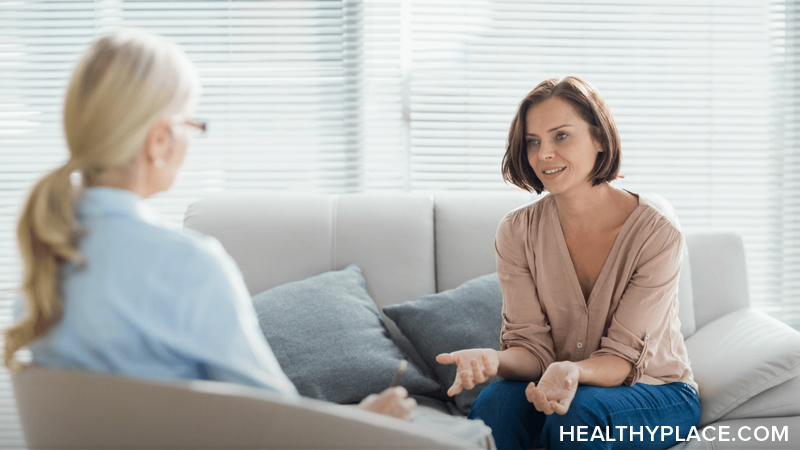 How Do Therapists Approach Mental Health Challenges?
"Can a therapist really help me?"
Mental health challenges, including the effects of mental illness, can seem so daunting that we often feel frozen in our tracks, not knowing where to go or what to do. It's tempting to wonder if it's worth reaching out for help. After all, if our problems seem insurmountable, how in the world can someone else, such as a therapist, sort them out with us? (Mental Health Counseling: How it Works, Benefits)
Trained mental health professionals, such as counselors, therapists, psychologists, and psychiatrists, have logical, research-based approaches to helping people. Elements that are considered by a professional when working with a client include the person's:
personal background
thought patterns
emotional experiences
behaviors and actions
values
goals
current mental status
When considering all of these personal aspects, a mental health professional will choose a therapeutic approach that fits the client. Cognitive-behavior therapy (CBT), acceptance and commitment therapy (ACT), dialectical behavior therapy (DBT), and solution-focused therapy are just a few of the therapeutic approaches supported by research that are known to be helpful.
Each therapist is unique, just as each client is unique; therefore, there is no one-size-fits-all approach to mental health. Regardless of the specific approach, a therapist chooses what she or he thinks will best suit the client and draws from her/his own belief system to choose valid approaches to healing.
Related Articles Dealing with Therapeutic Approaches
Your Thoughts
Today's Question: If you've tried therapy, what was the experience like for you? We invite you to participate by sharing your thoughts, knowledge, and experiences on the HealthyPlace Facebook page and on the HealthyPlace Google+ page.
---
---
From the HealthyPlace Mental Health Blogs
On all our blogs, your comments and observations are welcomed.
Feel free to share your thoughts and comments at the bottom of any blog post. And visit the mental health blogs homepage for the latest posts.
------------------------------------------------------------------
From HealthyPlace YouTube Channel
Am I hypomanic or happy? For those of us with bipolar 2 disorder, we often ask ourselves that question.
------------------------------------------------------------------
Most Popular HealthyPlace Articles Shared by Facebook Fans
Here are the top 3 mental health articles HealthyPlace Facebook fans are recommending you read:
If you're not already, I hope you'll join us/like us on Facebook too. There are a lot of wonderful, supportive people there.
------------------------------------------------------------------
Mental Health Quote
"Behind my smile is a breaking heart, behind my laugh I´m falling apart, behind my eyes are tears at night, behind my body is a soul trying to fight."
Read more mental health quotes.
------------------------------------------------------------------
That's it for now. If you know of anyone who can benefit from this newsletter or the HealthyPlace.com site, I hope you'll pass this onto them. You can also share the newsletter on any social network (like facebook, stumbleupon, or google+) you belong to by clicking the links below. For updates throughout the week, circle HealthyPlace on Google+, follow HealthyPlace on Twitter or become a fan of HealthyPlace on Facebook. Also, check out HealthyPlace on Pinterest and share your mental health pins on our Share Your Mental Health Experiences board.
back to: HealthyPlace.com Mental-Health Newsletter Index
APA Reference
Peterson, T. (2017, June 28). How Do Therapists Approach Mental Health Challenges?, HealthyPlace. Retrieved on 2023, December 8 from https://www.healthyplace.com/other-info/mental-health-newsletter/how-do-therapists-approach-mental-health-challenges
Last Updated: June 29, 2017