How Myths About Mental Illness Hurt Us All
HealthyPlace Mental Health Newsletter
Here's what's happening on the HealthyPlace site this week:
How Myths About Mental Illness Hurt Us All
There are lots of myths about mental illness. They range from mental illness, itself, is a myth to medications are the cure to the only reason therapists care about you is because you pay them.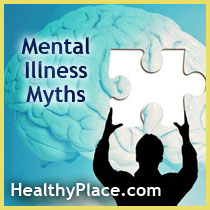 Many of the myths come from the general public - people who are not educated about mental health. The problem is that if you don't know the facts yourself, you may buy into these mental illness myths. The end result, of course, is that you sabotage your own mental health care.
Don't fall victim to myths about mental illness. Whether you or a loved one have a mental illness, one of the most important things you can do is become educated about all facets of the condition. Knowing the facts is key to managing your mental health.
Related Articles
Your Thoughts
Today's Question: What do you think is the biggest misconception about bipolar disorder? We invite you to participate by commenting and sharing your feelings, experiences and knowledge on the HealthyPlace Facebook page.
Help Spread Awareness of Mental Illness
Get Our Mental Health Blog Widget
Over 225 sites and blogs are helping spread awareness of mental illness. How about putting our mental health blogs widget on your website, blog or social page? The latest HealthyPlace blog headlines appear as soon as the articles are posted on our site. Just click "Get Widget" at the bottom of the widget, grab the embed code and paste it into your page. You'll also see embed links for Wordpress, Blogger, Linkedin and other social sites there.
As a bonus, put the blogs widget on your site or blog, email us (info AT healthyplace.com) with a page link where it appears, and we'll give a shoutout to your site, blog, or social site on our Facebook and Twitter pages.
------------------------------------------------------------------
Share our Stories
At the top and bottom of all our stories, you'll find social share buttons for Facebook, Google+, Twitter, Pinterest and other social sites. If you find a particular story, video, psychological test or other HealthyPlace feature helpful, there's a good chance others in need will too. Please share.
We also get many inquiries about our linking policy. If you have a website or blog, you can link to any page on the HealthyPlace website without asking us beforehand.
continue story below
---
Most Popular HealthyPlace Articles Shared by Facebook Fans
Here are the top 3 mental health articles HealthyPlace Facebook fans are recommending you read:
If you're not already, I hope you'll join us/like us on Facebook too. There are a lot of wonderful, supportive people there.
------------------------------------------------------------------
Mental Health Experiences
Share your thoughts/experiences with any mental health subject, or respond to other people's audio posts, by calling our toll-free number (1-888-883-8045).
You can listen to what other people are saying by clicking on the gray title bars inside the widgets located on the "Sharing Your Mental Health Experiences" homepage, the HealthyPlace homepage, and the HealthyPlace Support Network homepage.
If you have any questions, write us at: info AT healthyplace.com
------------------------------------------------------------------
From the HealthyPlace Mental Health Blogs
On all our blogs, your comments and observations are welcomed.
Feel free to share your thoughts and comments at the bottom of any blog post. And visit the mental health blogs homepage for the latest posts.
------------------------------------------------------------------
Stand Up for Mental Health
It's 2013. No more hiding. No more shame. Isn't it time you stood up?
Don't tolerate mental health stigma in your life. Stand Up for Yourself. Stand Up for Mental Health. Join the Stand Up for Mental Health campaign. Put a button on your website or blog (buttons for family members, parents, mental health professionals and organizations too). We also have covers for Facebook, Twitter and Google+.
------------------------------------------------------------------
Latest Mental Health News
These stories and more are featured on our mental health news page:
The Stories That Bind Us: How Children Learn Resilience
One Way to Cheer Up: Cheer Harder
The Happy Warrior Meets the Obsessive Competitor
Should My Therapist Stop Cross-Examining My Love Life?
What Doesn't Break You, Makes You Stronger
Till Unfriending Do Us Part
A DNA Mystery: What Your Relative's DNA is Doing Inside You
The Power of Touch
Suicide Ideation And Attempts A Greater Risk For Autistic Children
The Complexities Of Treating Deaf Patients With Psychiatric Disorders
People With Mental Illness At Highly Increased Risk Of Being Murder Victims
PTSD Commonly Follows Breast Cancer Diagnosis
Factors That Impact Adolescent Mental Health
Treating Substance Abuse Alone Helps Patients with Co-occurring Psychosis
Depression Signals Start of Mental Disorder in Bipolar Patients' Children
That's it for now. If you know of anyone who can benefit from this newsletter or the HealthyPlace.com site, I hope you'll pass this onto them. You can also share the newsletter on any social network (like facebook, stumbleupon, or digg) you belong to by clicking the links below. For updates throughout the week:
back to: HealthyPlace.com Mental-Health Newsletter Index
---
APA Reference
Staff, H. (2013, March 18). How Myths About Mental Illness Hurt Us All, HealthyPlace. Retrieved on 2023, October 1 from https://www.healthyplace.com/other-info/mental-health-newsletter/how-myths-about-mental-illness-hurt-us-all
Last Updated: September 4, 2014