Romantic Jealousy is Scary!
Jealously. . . it feeds on your insecurity, devours your self-confidence, and gobbles up the trust in your relationship.
Jealousy has been defined as an emotion experienced by one who perceives that another person is giving something that she or he wants (typically attention, love, or affection) to a third party.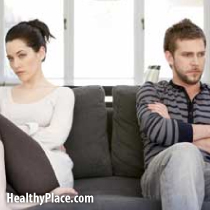 Jealousy is an emotion resulting from the resentfully suspicious nature of man. It is a universal emotional trauma caused by things as well as people. Jealousy is a reaction to a perceived threat - real or imagined - to a valued relationship or to its quality. Jealousy has a mind of its own and it is strong enough to make us believe and see things that are not even there or that have not happened yet.
Jealousy is a "complex reaction" because it involves such a wide range of emotions, thoughts and behaviors.
Believe it or not, like other difficult emotional experiences, jealousy can be a trigger for growth, increased self-awareness, and greater understanding of both your partner and your relationship.
While some couples seem to feed off of inciting a playful type of jealousy, many other relationships are laid to waste by uncontrollable and irrational fits of jealous rage.
In small, manageable doses, jealousy can be a positive force in a relationship. Jealousy heightens emotions, making love feel stronger and sex more passionate. But when jealousy is intense or irrational, the story is very different.
Jealousy is almost always a demonstration of our own insecurities and low self-esteem. Unless an unfaithful partner has broken trust, about 90% of jealousy comes from from personal insecurity. When you are feeling unloved, be careful not to focus on your partner when the feelings are really inside you. Jealousy provides an opportunity to come to a fundamental understanding of yourself. You may be being driven by your fears.
Insecurities bring forth jealousy, which, in effect, is a cry for more love. It is within our rights to ask for more affection when self-doubts surface, however, the indirect way that jealousy asks for it is counterproductive. Excessive possessiveness is inappropriate. Jealousy is the surest way to drive away the very person we may fear losing.
---
---
One of the biggest mistakes you can make is to try and hide it. Jealousy is usually a signal of something needing fixing, and ignoring that usually only makes things worse.
To keep yourself on the right track of jealousy conquering, just remember these steps:
Acknowledge your jealousy. Ask yourself where it is coming from and why it makes you feel jealous. I suggest asking yourself, "What do I feel insecure about? Do I feel unattractive or uninteresting myself? Do I doubt the other persons love for me? Their physical attraction? Do I doubt that I can have the type of relationship I want?"
Make self-health and lifestyle changes that will assist you in fighting it off. Combine jealousy with a more rational emotion. Have patience and practice!
As long as you keep those steps in mind and follow them, you will learn how to take control of your jealousy instead of it controlling you.
Emma Goldman once said, "All lovers do well to leave the doors of their love wide open. When love can go and come without fear of meeting a watch-dog, jealousy will rarely take root because it will soon learn that where there are no locks and keys, there is no place for suspicion and distrust, two elements upon which jealousy thrives and prospers."
APA Reference
Staff, H. (2008, December 21). Romantic Jealousy is Scary!, HealthyPlace. Retrieved on 2023, December 1 from https://www.healthyplace.com/relationships/celebrate-love/romantic-jealousy-is-scary
Last Updated: March 25, 2016