Best Self-Help When Living with a Mental Illness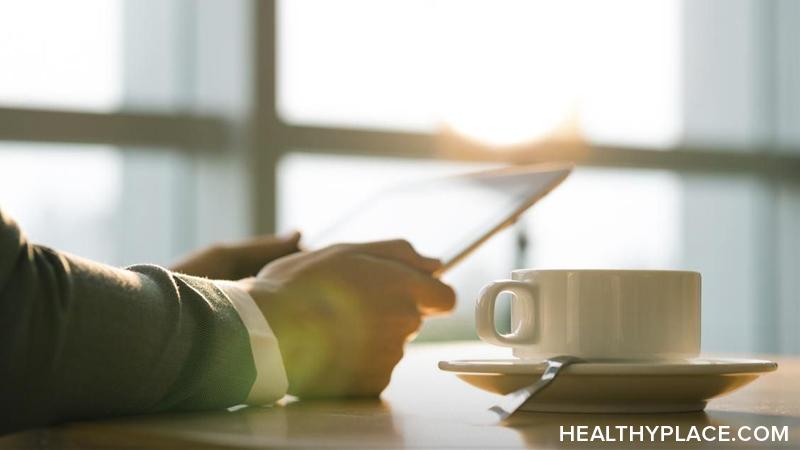 What's the best self-help when living with a mental illness? Is psychological self-help the best help? The answer is maybe. Living with a mental illness can make life difficult at times. If you're dealing with anything more than just a mild mental illness, even the best self-help tools, when used alone, might not be enough to help you cope. Likewise, with therapy and treatment alone, you might not always feel your best. That's where self-help can make a difference (What is Self-Help for Mental Health?).
If you have access to a computer with an Internet connection, you have an array of self-help options right at your fingertips (Online Mental Health Self-Help is Available and Effective).
Best Self-Help Digital Tools
A quick search and click take you right to some of the best self-help available for those living with mental illness:
Best Self-Help Apps
iStress for anxiety. For the iPhone, this app includes several activities designed to help you manage stress. For example, you can read encouraging quotes or record your negative thoughts and then use the "reframe thoughts" function to change them into positive affirmations.
Self-help Anxiety Management (SAM) for anxiety. For iPhone and Android, this app claims to provide a range of techniques and tools for people committed to learning how to manage their anxiety. With great graphics, the app includes user guidance, self-monitoring tools, 25 self-help options that help with a number of anxiety-related issues.
Depression CBT Guide. For Android, this app allows you to read articles about cognitive behavioral therapy or listen to audio clips that help you relax and meditate. It includes a cognitive thought diary to help you identify problematic thinking and replace it with positive thinking.
Depressioncheck for a variety of conditions. For iPhone, the depressioncheck app helps you evaluate the severity of any disturbing symptoms quickly using an easy questionnaire. You can keep track of your symptoms and it uses this data to warn if you are at risk for depression, anxiety, bipolar disorder, or PTSD. You can even share the stored information with your doctor to help him or her make a diagnosis.
T2 Mood Tracker for bipolar disorder. Designed for both iPhone and Android, T2 Mood Tracker includes the full range of mood scale or allows you to create your own. Swipe, rate your mood, and view it in an attractive graph. You can personalize the details to customize it and the report generator allows you to easily share your data with your doctor.
iCounselor OCD for obsessive-compulsive disorder. This helpful iPhone app allows you to rate your OCD as well as learn skills that help you to resist obsessions and compulsions. It also provides insight into any distorted thought patterns you may have. There are a number of iCounselor apps available for a variety of disorders including bipolar disorder, eating disorders, anxiety, anger and more.
Best Self-Help Blogs
Self Help Daily. The Self Help Daily blog by Joi Tania Sigers seeks to teach readers to learn from their mistakes and become stronger through these challenges. Sigers then provides inspiration for readers to use their newfound strength and wisdom to make the world a better place.
Operation Beautiful. Caitlin, owner of Operation Beautiful, believes every single human is beautiful and dedicates her work to ending crippling negative self-talk in girls, women, and men. She hopes to encourage a positive body image in her readers by showing them that their beauty comes from the inside and arises out of each person's unique qualities and talents.
The Daily Love. Mastin Kipp, owner of The Daily Love blog, imparts wisdom and shares tools for overcoming fear, jealousy, and making sense of challenging times in life. His content includes encouraging stories for those going through difficult times.
Best Self-Help Websites
Mental Health America. MHA's self-help section offers screening tools, worksheets and articles like "31 Ways to Boost Your Mental Health". Also check out their "Sample Letter for Starting a Conversation About Mental Health Struggles".
Psychology Today. The Psychology Today website provides readers with articles and features on psychology and specific issues people with mental illness may be facing.
Self Help Zone. The Self Help Zone provides self-help resources and encouragement for those coping with depression, anxiety/panic, anger, as well as career, relationship, and stress issues.
As always, count on HealthyPlace.com to bring you the most up-to-date, best self-help information, tools, resources, and links available.
APA Reference
Gluck, S. (2021, December 17). Best Self-Help When Living with a Mental Illness, HealthyPlace. Retrieved on 2023, December 11 from https://www.healthyplace.com/self-help/self-help-information/best-self-help-when-living-with-a-mental-illness
Last Updated: March 25, 2022